In an ideal world, everyone who interacted or came across your brand or product would follow a simple path and become a buyer. This imaginary ideal buyer's path would go something like this:
1) The prospective customer visits your website after seeing one of your ads.
2)They reach out and contact you straight away, or purchase directly through your website.
Unfortunately, most buyer journeys aren't so straight forward. On average, most websites only have a 1-3% conversion rate. A 'good' conversion rate is generally considered to be over 5%.
Countless factors influence someone's decision to make a purchase. Thankfully, modern technology allows us to get some insights into what motivates buyer decisions, and this is where the idea of the sales funnel comes into play.
The different stages of a sales funnel can be used to shape your campaigns, particularly for products or services where people have to consider the purchase for a few weeks, as opposed to quicker impulse buys.
The Stages of a Remarketing Sales Funnel: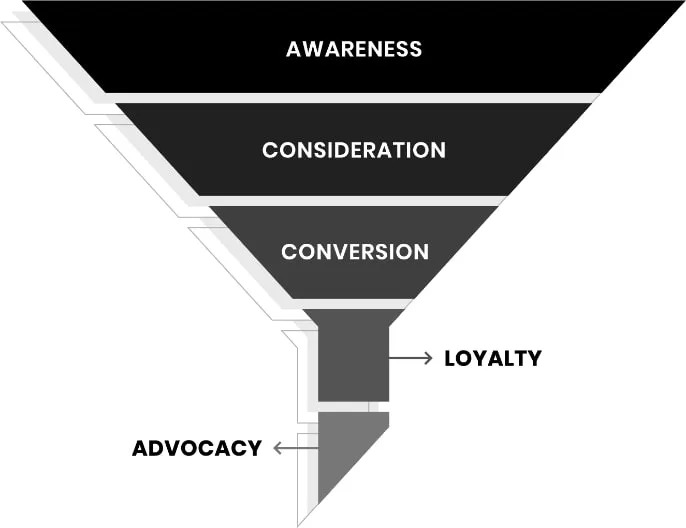 1. Awareness
Awareness ads are shown to fresh eyes – people that have never been exposed to your brand. This is often a positioning message, a video or a free, valuable piece of information that will resonate only with your target audience. Any user that interacts with these ads is tracked to be served to follow up ads, as they are now a warmer prospect and aware of your brand.
2. Consideration
At the consideration phase, follow up ads should be served to the above audience with wording and creatives that are more action-oriented. This part becomes quite complex, as there are many ways to go about it. Often split testing is required to find the most successful copy and creatives. Sometimes we'll use other media like email, SMS, messenger, YouTube and Display. At the consideration phase, we also focus on making sure your online reviews are on point, and that you appear on page 1 of Google when people are ready to make a purchasing decision.
3. Conversion
At the bottom of the funnel is conversion, which is our primary objective. Often times we'll agree on an ideal number of leads/sales/contact details that the client wishes to produce, We will then build a funnel that produces these leads for the client to then follow up on. Other times we will build a funnel to generate online sales only, and in some cases we are aiming to achieve a combination of both. This is best integrated with your sales team so that both parties are in full alignment.
4. Loyalty & Advocacy Stages.
Once a user has converted into a customer – we can structure campaigns to automatically stop serving consideration ads, and instead serve loyalty/retention ads. These can be anything from a value-adding piece of content, upsell/cross-sells, links to any upcoming events or referral programs – the list goes on. Our goal here is to position your business so highly within their industry, that their customers become advocates, spreading the word about what you do.
Remarketing funnels, combined with a good digital strategy and ideal website experience can dramatically increase the level of conversions for most businesses.
If you'd like to chat more about whether a remarketing funnel would be a good fit for your business, we'd love to help! Reach out via this link.