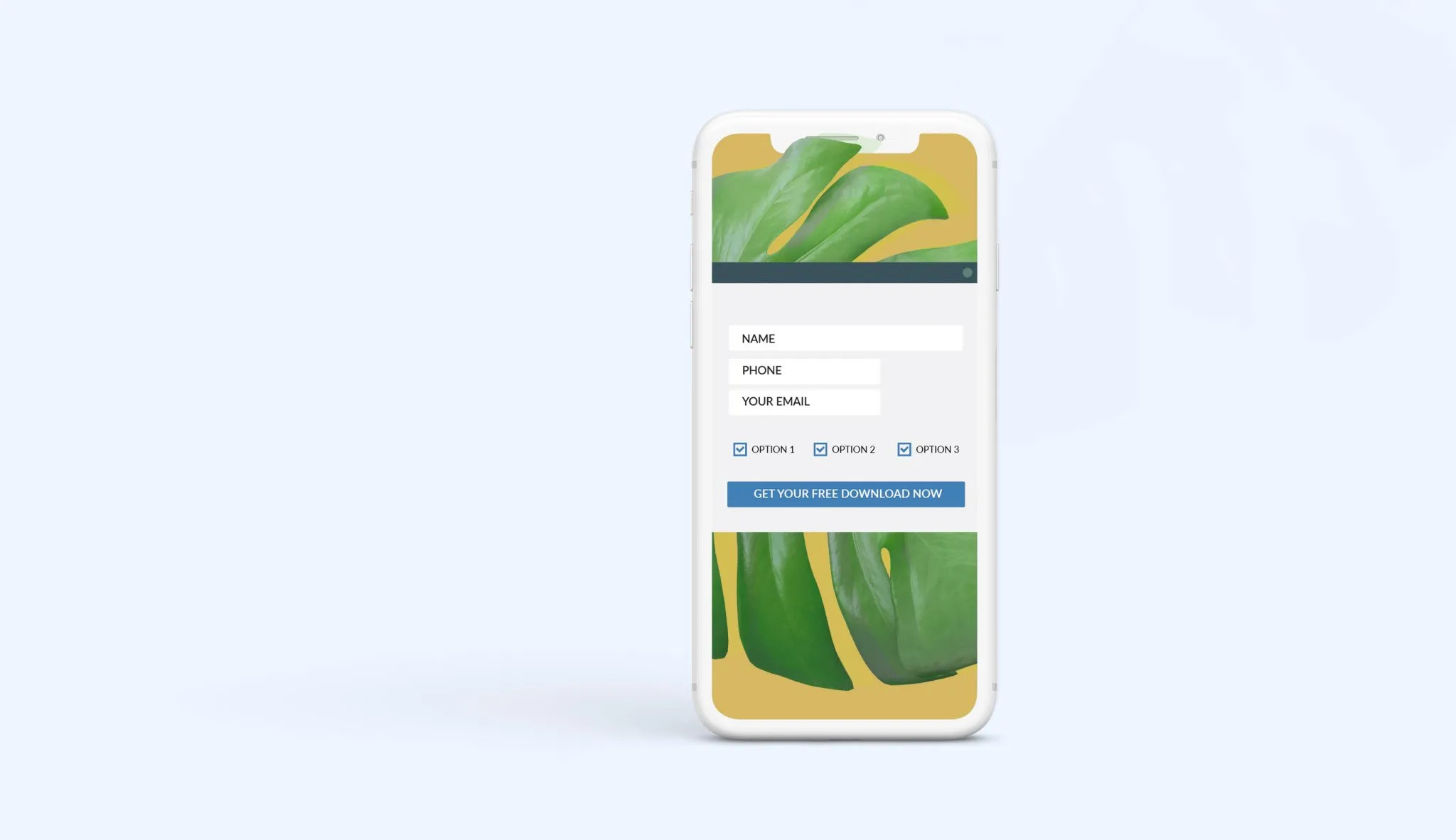 Of the various ways to boost your business, Facebook Lead Ads is one of them. We explore the different ways Lead Ads can bring in more clients and enquiries to your biz, so you can be confident that with some easy planning and setup, this marketing tactic can bring customers straight to your door.
You may feel that Facebook ads don't pack the punch they used to. We will illustrate to you how doing things right – or perhaps differently – can make a world of difference.
You've got the goods – now you just need to reach the right people and make sure they know your offerings suit them best. Knowing you should use Lead Ads isn't enough – you need to know how to as well. We've got some great actionable ideas below that can help.
Running your Business and Beyond
Setting up a business and keeping it afloat is a difficult task in itself – but we want you to be able to look further than just keeping your head above the water. You may have an excellent product or service. However, even if you have a considerable client base, you want your business to grow and thrive – and to do that you need to get more clients regularly. Here are some features of Facebook's Lead Ads that can work for you to bring in more clients:
1. Better mobile experience
These days nearly everyone has got a sleek piece of tech sitting in their back pocket, handbag, or hot little hand – even your previously technologically illiterate Grandma! Given that most people spend a significant chunk of time on their mobiles – working, browsing, and killing time waiting for the coffee to brew – you need to reach people where they already are. This means telling them about your business through hand-held devices quickly and easily.
Filling out online forms can be a challenge on a mobile, but Facebook Lead Ads simplify the process by providing pre-populated forms. Once a visitor taps on your advertisement, a form pops up with most of their information already on it! Auto-fill makes access to information so much easier and more effecient. Admittedly, sometimes we just can't be bothered filling out all that info, and back-click to save the effort of typing out our contact info.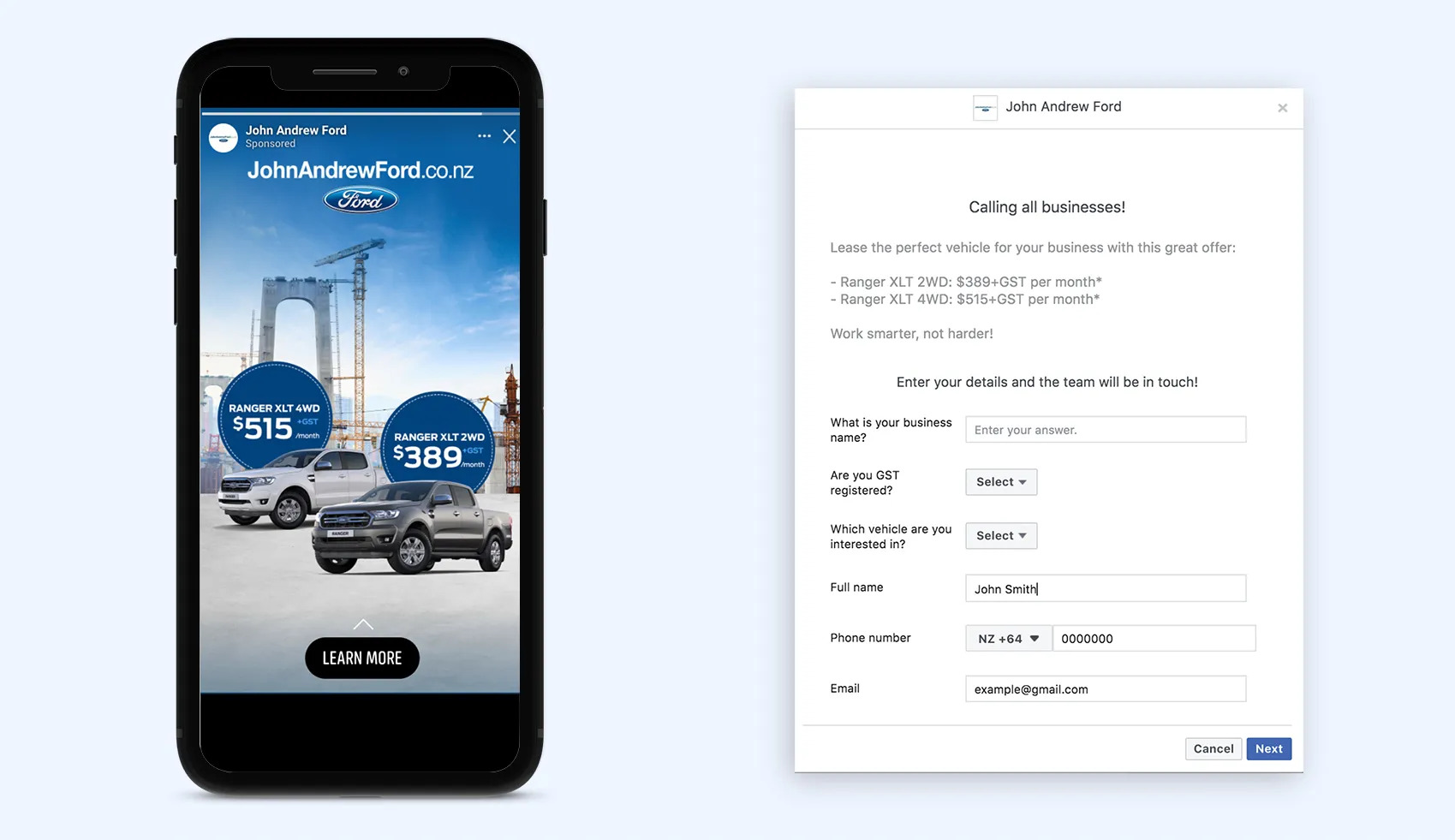 2. Reduction in drop-off rates
Less effort = More completed forms. The lead forms that a visitor fills in exchange for getting information (and sharing their own info with you) is a simple, easy process, so they are more likely to complete the form and submit it. Exclude unneccesary form feilds that you don't really need, in order to make drop-off rates reduce even further. You know someone is interested in your product and service, and is happy for your to get in touch – an email or phone number is probably all you need to get a conversation going and land some business.
4. Relevant Leads
As many of you may be aware, a lot of generated leads can fall under the category of what is called 'non-qualified leads'. These are leads that show up with little relevance or are simply not a good customer fit for your business. Following up on these leads is not going to bring in any value through your sales funnel. Facebook Lead Ads can pick up relevant customers through pairing ads with their optimal audience. The social media giant is constantly stalking user behaviour and tracking people's interests, searches, and responses to ads – meaning its 'optimise' feature saves you countless hours of having to pour over endless data to identify your most relevant audience yourself.
5. Asking the Right Questions
The key to relevant information is to ask the right questions. You can customise the questions contained in Facebook Lead Ad forms to suit you best. If your questions seek relevant information, you will get higher-quality leads through your forms.
6. CRM Intergration
Another useful feature of Facebook Lead Ads is that you can link them to your Customer Relationship Management (CRM) system. This provision results in a seamless process that automatically connects your Facebook Lead Ad forms to your sales team with little or no human intervention.
7. Meeting Customer Needs
Different people require different approaches. You can make sure you are altering your sales pitch for the varied requirements of your customers – knowing what they need before picking up the phone. Following up potential leads is great, but having that little bit extra knowledge on what exactly they are after is even better. Consider inluding a contact time preference – so you are making contact with potential leads when they are available to chat, and not in the middle of their busiest time of day.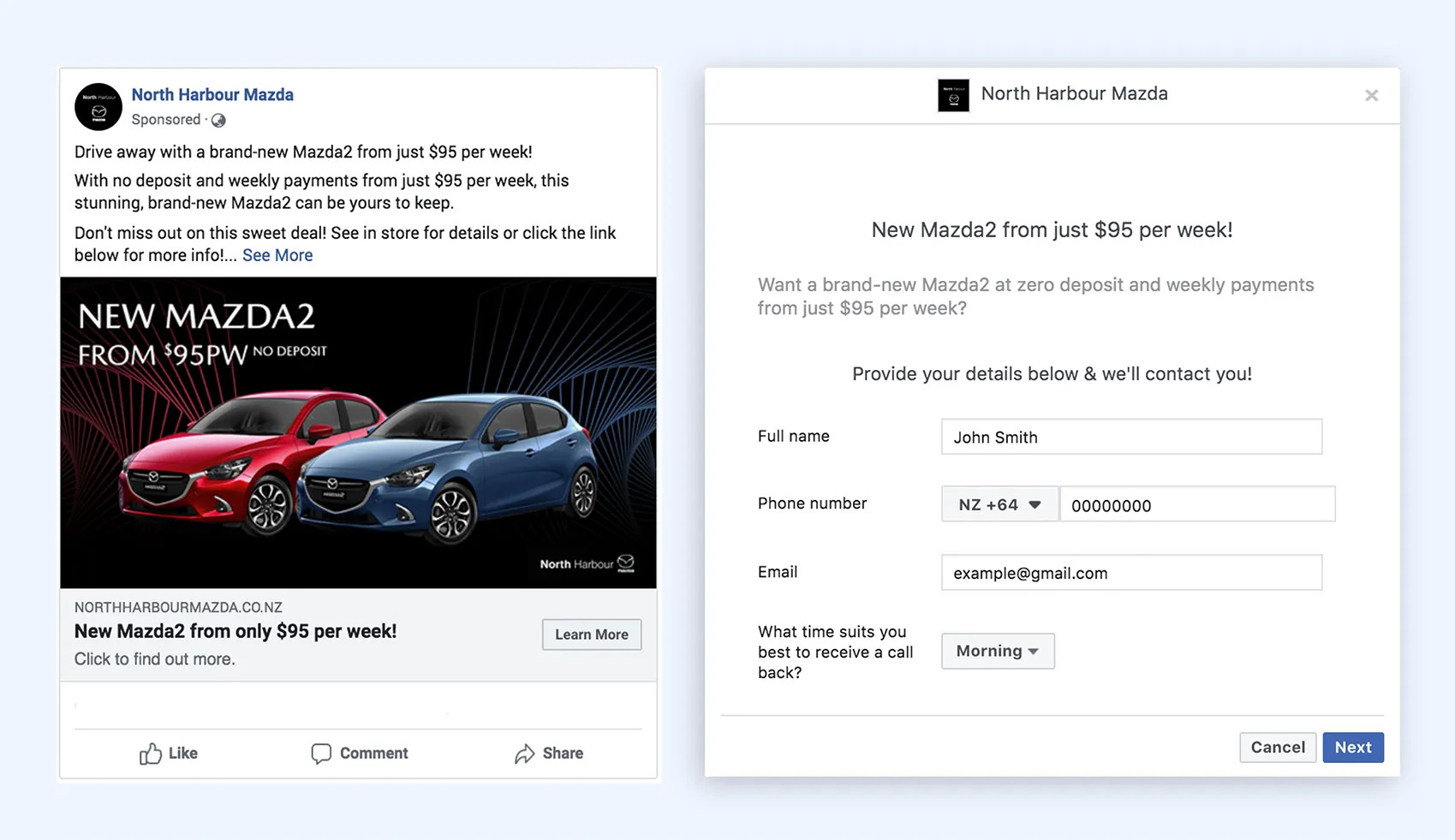 8. The Lead Ad Customisation Process
Lead Ads provide you with forms that you can customise. Right from the top of the funnel with elements from Brand Awareness and Reach, to Closing, Facebook Lead Ads have you covered. Here's how you can customise your Lead ads to suit your needs:
If you insert the questions that that seek relevant information you need from your customers, you can be more responsive to their needs. You will be able to contact the most appropriate people for information that you can use.
You can model your ads based on the nature of interest that people have shown previously. This helps you to formulate a retargeting strategy, that sends such customers to the lead form. The result is that you get higher-quality leads.
The Dealer Locator Provision
On the completion of a lead form, a potential customer gets complete information on the location of the nearest dealer or point of sale. Armed with this information, the potential customer has the option of buying the product or trying it out, depending on the options that you provide.
When a person completes a form, you also give them the option to click a button that gets them in touch with you. Or a telephone number strategically placed can motivate them to call you up. In any case, this stage is all about initiating a dialogue.
Facebook Lead Ads provide the facility of setting up an appointment automatically through the form. This again returns to what we discussed about asking the right questions. Here, the form has a question to the customer regarding their preferred time for an appointment. This not only brings the customer to you much faster, but the need for follow-ups also gets reduced.
You can also add some more elements to the form such as the creation of a review page or adding the 'slide to submit' option. This can result in increased interest in your product.
9. Get Your Ads Noticed!
Here are a few simple, but actionable tips that you can use to create better ads:
You need to be very clear in your ad about what you want to say. People should understand the value of your message and should be able to see some benefit in it for themselves. Only then can you get people to share their information with you.
Try to avoid adding too much information into your ad. Random questions or too many of them are best avoided. Keep your questions focused and to a minimum. Say what you have to say in a clear, concise manner.
Whatever you put into your ad should contribute to awareness of your brand or company. It is only by educating your customer about your product or service that you can get a positive response. You need to put a lot of thought into what your company stands for and the benefits that your product or service has to offer. Once you can merge all this information into your brand, you will get noticed.
Revamp Your Leads Acquisition Process with Facebook Lead Ads
What we have discussed here is some of the basic features that Facebook Lead Ads has to offer. We have also given you some great tips on how to use Lead Ads, and finally, we showed you how you can add more impact to the ads that you create. Facebook Lead Ads has much to offer, so if you are looking for ways of enhancing your lead acquisition process, you will do well to give Lead Ads a try. You will find that it benefits your sales process in more ways than you can imagine!
– Flow Marketing NZ